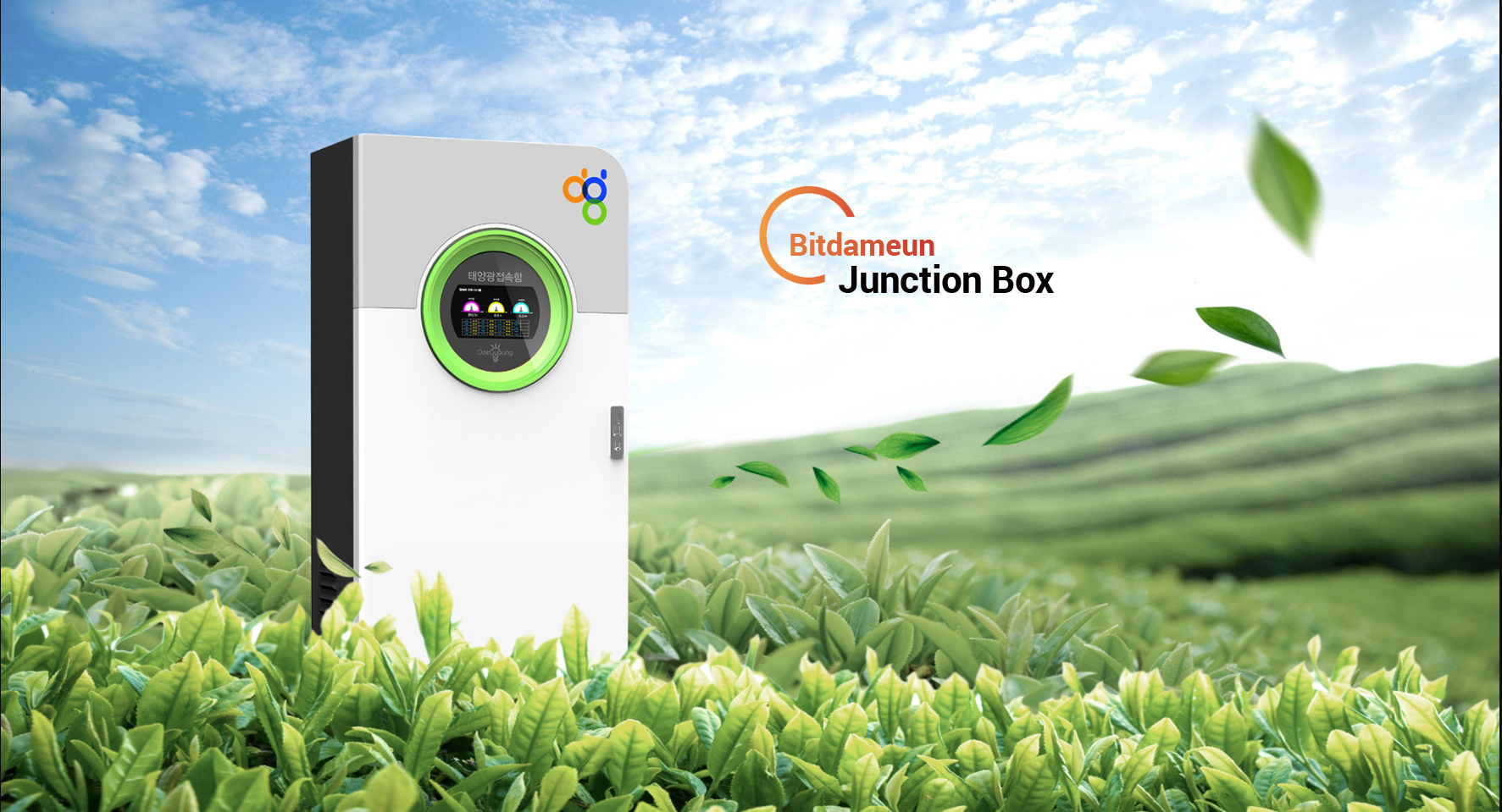 ---
Bitdameun Junction Box is designed to install and manage power lines consisting of PV array in an optimum state and monitor electricity in real time to ensure the stability of the photovoltaic power system. It is based on an elegant design which can be applied in urban and public places.
---

Heat Management
provides an environment optimized for photovoltaic power system, detects and Emits heat with cooling plate tightly coupled to diode

Superior Weather Resistance
with highly weather resistant ASA, the product can be used for a long period of time and is perfect for use in outdoor casing as its color lasts for a long time

Improved Safety of Channel Monitoring System
000V high voltage insulation with CT and improved safety with the monitoring system designed for low voltage (5V or lower).
---

Improved Fire Prevention
separate wires are laid for plus and minus without PVC duct to prevent creepage flashover, and heat-resistant glass fiber wire is used for the effective prevention of fires

Smart Error Detection
monitors each channel and display error messages on the window when a failure is detected in the system in order to make error detection and maintenance easier
Stand alone PV power system diagram
---
Advantages and Features of Junction Box
Safe Photovoltaic Power Generation
C 1000V power rating applied to all products
LS Susol MCCB series applied to all products
     (100Af ~ 400Af)
A photovoltaic fuse used
     (Bussman PV-15A 10F)
Channel monitoring with hall sensor and RS485 monitoring software
High Durability
IP65 rated stainless or steel boxes are used
Triple-layer sealing and internal gasket are applied to the front side
Safety cover is applied to components
Specially designed Bitdameun Junction Box
• Cooling plate integrated with fast diode used
• PVC duct one of the major causes of secondary fires not used
• Highly weather resistant design
(Durable glass and ASA are used for front side)
• Welcome function for energy saving
• Fast diode used to protect power channels and modules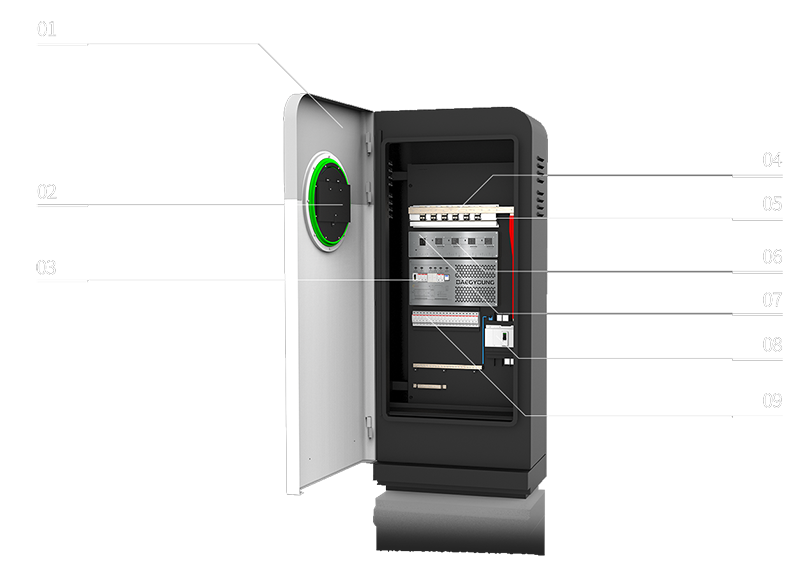 01

Box

IP65 rated box is applied for
   ground mounted and floating
   photovoltaic system and coated
   with high-end double powder
02

Front Monitor

Line connection can be checked
   in real time through TFT Color LCD
03

Surge Protect
Device

Protects photovoltaic system from
   lightning and over voltage
04

Cooling Plate

Custom-made cooling plate manufactured
   by extrusion molding
uppressing the temperature rise of diode
Reducing power loss
05

Diode

Fast diode which is 500 times faster
   than traditional diode
Repetitive reverse voltage is completely
   blocked
Blocking circulating current around
   each circuit in multiple parallel circuits
06

String Module

Information for photovoltaic system
    including voltage and power for each
   channel can be measured in real time
07

RTU

Integrated photovoltaic information
   transferred to monitoring system, and
   wire and wireless communication is available
08

DC Breaker

100, 160, 250 and 400ampere frames
   are used
09

Fuse Holder

Protects facilities from short circuit current
   overcurrent and available up to DC1000V
10

Environment Sensor

Data of surrounding environmental elements    (horizontal solar radiation, latitudinal solar
   radiation, module temperature and outside
   temperature) can be measured
Safe and reliable Bitdameun Junction Box of
superior quality and performance for customer satisfaction
---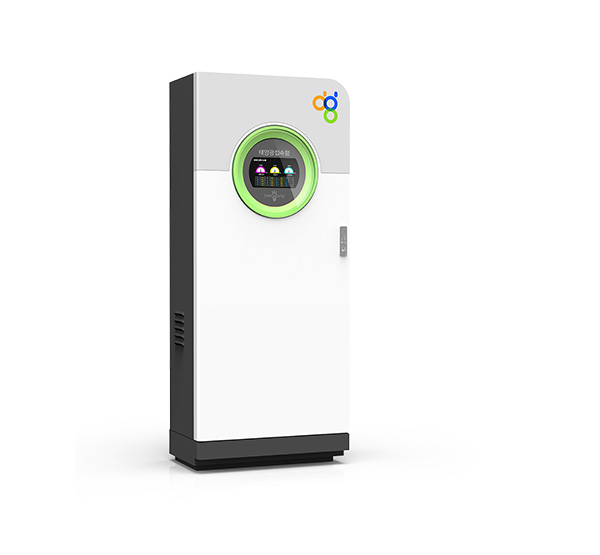 DGMJ - ALL

IP65
Web+Local+Channel Monitoring
~25 channel available
Maximum input voltage 1000v
Maximum output power 250A
Monitoring: inverter + channel data
    - Channel: monitoring voltage and power errors in each channel
    - Local: TFT Color LCD is installed
    - Web: monitoring PV power system by using web
SUS/ASA/durable glass applied
Double powder coating
Size: 600x300x1200
Option: environmental sensor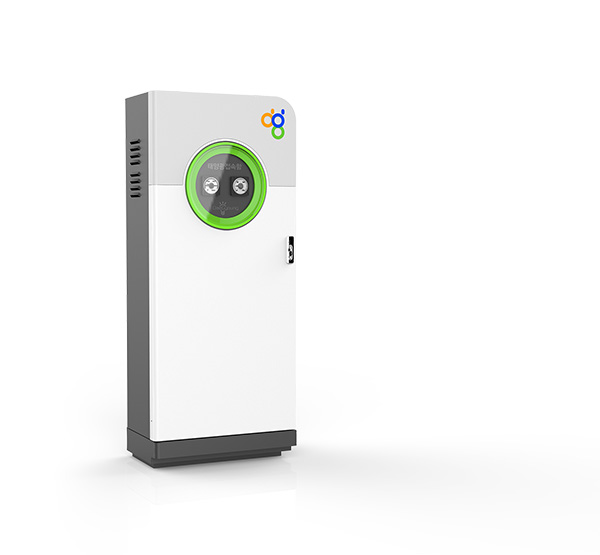 DGMJ-WEB

IP65
Web Monitoring
~25 channel available
Maximum input voltage 1000v
Maximum output power 250A
Monitoring: inverter data
    - Web: monitoring PV power system by using web
SUS/ASA/durable glass applied
Double powder coating
Size: 600x300x1200
Option: environmental sensor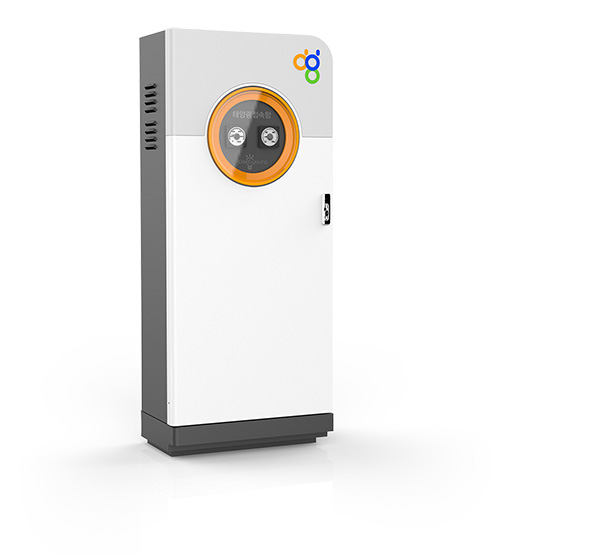 DGMJ

IP65
Standard Type
~25 channel available
Maximum input voltage 1000v
Maximum output power 250A
SUS/ASA/durable glass applied
Double powder coating
Size: 600x300x1200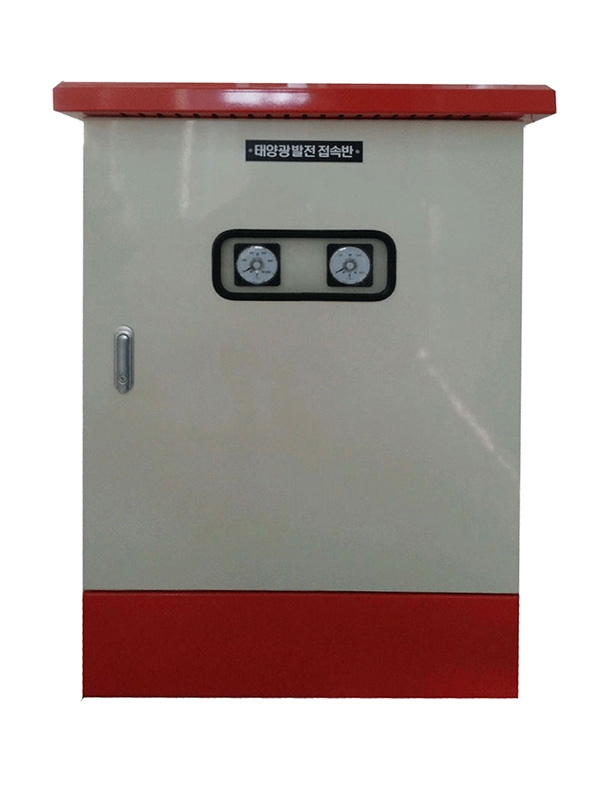 DGME

IP44
Standard
~25 channels
Maximum input voltage 1000v
Maximum output power 300A
SUS and STEEL used
Double powder coating
Size: 450~750x200x850~900